Archipelago Cafe & Bar
As you walk down the narrow street that leads to LIVADI, just bellow the windmills, you will find the "ARCHIPELAGO" café.
A place which is built with respect and cares for the people who visits it.
A traditional old house with a large garden and a wonderful veranda that offers an extraordinary view to the old Venetian Castle, to "Choras'" unique white houses and certainly to the endless blue sea.
Among the trees and flowers in our place, which is sheltered from the wind, you can enjoy our home made sweet and salty flavors made from the purest and freshest ingredients with loving care, listening at the same time to the best of music from the four corners of the world.
A great way to satisfy your senses and accompany your travels in Greece with the sweetest memories from Astypalaia.
Ενα ακομη ταξιδι στην Ιστορια, στα χρωματα του Αιγαιου, στην μουσικη και στον κοσμο της γευσης.
Γλυκιες κι' αλμυρες σπιτικες διμιουργιες απο τα πιοφρεσκα και αγνα υλικα, εχουν σκοπο να εξιδανικευσουν και να ικανοποιησουν τις αισθησεις σας και να σας συνοδευσουν στο ταξιδι σας με τις πιο ομορφες και ζεστες αναμνησεις απο την Αστυπαλαια.
Το Αρχιπελαγος, ειναι ενας χωρος φτιαγμενος με αγαπη γι' αυτους που ακομα ονειρευωνται επικοινωνουν και αισθανωνται.

Archipelago Cafe & Bar

Chora

GR-85900 Astypalaia

Greece
Phone
+30 22430 61889
Mobile phone
+30 697 2252323
E-mail
Owner
Kalli F. Chroneos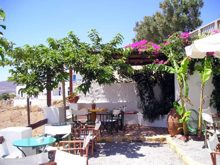 the veranda