Studios Lefkanthemo
1 apartment for 4 persons with bathroom, small kitchen, veranda and fantastic view
3 studios for 3 persons with bathroom, small kitchen, veranda and fantastic view
Lefkanthemo was build in 2007, and offers a spacious 4 people apartment and three studios that can accomodate up to 3 people each. Idealy situated near a busstop at the capital of the island it is less than 2 minutes away from the center of the town. There you will find the traditional "agora", as well as most of the day and night life of the island.
All apartments offer a fully equiped kitchen, their own veranta, a flowerbed and the most important part: The most beautiful view than any other place on the island!
This way you can enjoy from your own veranta the famous "Castle of Astypalaia", the old town, the central square with the picturesque windmills, the harbor, the big village, Maltezana, and of course the endless blue. Given the above the TV and AC in every apartment will never be noticed.
The apartment consists of a separate bedchamber with a double bed, a large room with the kitchen, livingroom, and a bath with a bathtube. A small sheltered balkony and a veranta belong also to the apartment.
Two of the apartments provide the traditional "Sefa", a small traditional wooden construct with the bed.
The third apartment is build on two levels, so that you can enjoy the beautifull view right from your beds.

Studios Lefkanthemo

Chora

GR-85900 Astypalaia

Greece
Phone
+30 22430 62054
Offseason phone
+30 697 4877162
Mobile phone
+30 697 7858258
E-mail
Internet
Owner
Antonis Kambouris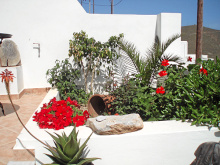 view by night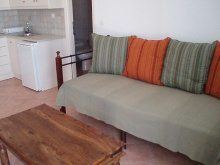 outside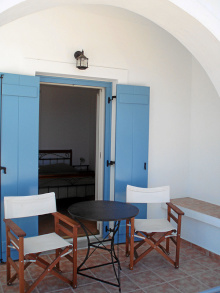 outside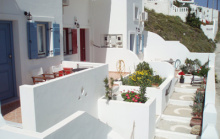 outside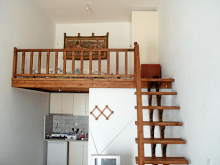 inside